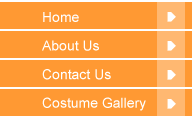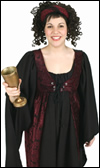 Costume Rentals by Judy has been serving the Fenton area with quality costumes since 2000. Our collection of costumes totals over 1,000 and is continually growing. Whether you need a costume for the holidays, a birthday party, theme wedding, or any other occasion, we're sure to have the right costume for you. We specialize in adult costumes, though we do carry some children's costumes.

Looking for the perfect Halloween costume? We've got everything from Sponge Bob Squarepants to the Scarecrow from Wizard of Oz. Want that authentic Renaissance look while attending the local Renaissance Festival or a theme wedding? We've got Lord, Lady, and Knight costumes!

If you'd like to view our large selection of costumes, you can visit our Contact page and give us a call. We are open by appointment only, so call us today!
Featured Costume
We now have 80 parade heads with costumes for rent with a wide variety of choices!!